Pieces of Her ~ Karin Slaughter
May 24, 2019
Paperback: 496 pages
• Publisher: William Morrow Paperbacks; Reprint edition (May 21, 2019)
Like many mothers and daughters, Andrea and Laura know each other inside and out. Andrea knows that her mother has never wanted more than a simple, quiet life in her small community.
After a catastrophic event one afternoon, their world and everything Andrea knows about her mother is turned on its head, leaving both women with more than their fair share of past to sift through.
This isn't my usual story but oh I'm so glad I ended up on this tour. I know that Karin is well loved in the reading community so I jumped at the chance to try out her writing. I love her take on adventure and suspense, woven through with deep emotion.
There is something so brilliant about reading a story that portrays the characters as one, clear cut picture and then slowly unraveling every bit of who they are, leaving the reader to pick up the pieces.
Excuse me, now, while I spend the rest of my summer reading through all of Slaughter's previous books that I've put aside for way too long.
Oh, and by the way! This is going to be on Netflix so keep an we out but, of course, do read the book first.
And as always, don't just take my word for it! Check out these other TLC Book Tour stops!
Instagram Features
Tuesday, May 21st: Instagram: @crystals_library
Tuesday, May 21st: Instagram: @simplykelina
Wednesday, May 22nd: Instagram: @jennsbookvibes
Wednesday, May 22nd: Instagram: @meganthemeganerd
Thursday, May 23rd: Instagram: @thats_what_she_read
Friday, May 24th: Instagram: @readingwithmere
Saturday, May 25th: Instagram: @wherethereadergrows
Sunday, May 26th: Instagram: @readingbetweenthe__wines
Monday, May 27th: Instagram: @beauty_andthebook_
Review Stops
Tuesday, May 21st: Hopelessly Devoted Bibliophile
Wednesday, May 22nd: Into the Hall of Books
Thursday, May 23rd: Julie's Bookshelf
Friday, May 24th: Iwriteinbooks's blog
Monday, May 27th: I Wish I Lived in a Library
Tuesday, May 28th: Laura's Reviews
Wednesday, May 29th: Jennifer ~ Tar Heel Reader
Friday, May 31st: Thoughts From a Highly Caffeinated Mind
Monday, June 3rd: Ms. Nose in a Book
Wednesday, June 5th: Read Like a Mother
Friday, June 7th: The Desert Bibliophile
Monday, June 10th: Girl Who Reads
Tuesday, June 11th: Books and Bindings
Wednesday, June 12th: Write – Read – Life
Tuesday, June 18th: As I turn the pages
Purchase Links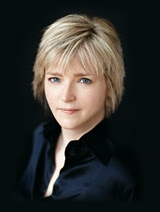 Photo by Alison Rosa
About Karin Slaughter
Karin Slaughter is one of the world's most popular and acclaimed storytellers. Published in 120 countries with more than 35 million copies sold across the globe, her eighteen novels include the Grant County and Will Trent books, as well as the Edgar-nominated Cop Town and the instant New York Times bestselling novels Pretty Girls and The Good Daughter. Slaughter is the founder of the Save the Libraries project—a nonprofit organization established to support libraries and library programming. A native of Georgia, Karin Slaughter lives in Atlanta. Her standalone novels The Good Daughter and Cop Town are in development for film and television.
Find out more about Karin at her website and connect with her on Facebook, Twitter, and Instagram.